This technique was demonstrated by Kristina Werner in Online Card Classes Clean & Simple 2 Day 8.  (Do yourself a big favor and check these classes out!) I love inky techniques, but I'm not so sure this is card can be classified as clean and simple. There is no white on the card…I usually think of clean and simple as a white or neutral background. Purple is definitely not neutral.
While the technique to create backgrounds with distress ink is pretty standard (as developed by Tim Holtz), Kristina added the artsy twist of throwing salt on the background. I have added one more twist…
My version is to smoosh distress ink pads onto a non-stick craft sheet, spritz the inky puddles with water, then moosh your watercolor paper into it. Yes, watercolor paper makes a difference. The ink soaks into regular cardstock and it comes out very splotchy and not artsy.
After getting the background color on, flip the paper over and sprinkle with salt. I had a baggie of flake salt, but table salt, kosher salt and probably sea salt will work. Let it sit and dry. (Don't be tempted to play with the salt. Leave it!) The salt soaks up moisture and color leaving some interesting patterns on the paper.
Because I couldn't leave well enough alone, I decided to spritz the drying, salt covered background with Mr. Huey's Shine color mist spray by Studio Calico.  It kind of fizzed a bit and looked shimmery. I wasn't sure what a heat gun would do, so I left it to air (slow!) dry overnight.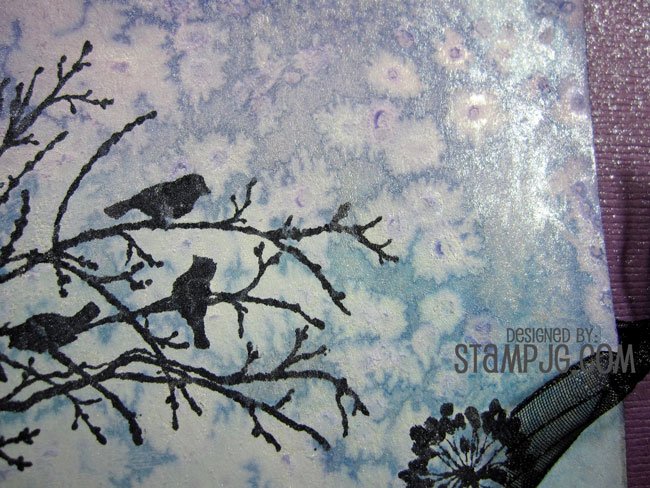 Other than cropping the background to fit the card and inking the edges with some distress ink, this is what we got…. Unexpected, but really neat with a bit of shimmer. I could see doing this for winter backgrounds.
To finish the card, I stamped the background using solid images and Archival Jet Black ink. I spritzed purple cardstock with more Mr. Huey's shine, added a black sheer ribbon and adhered my background with foam adhesive.
The sentiment was stamped with Versamark clear ink and heat embossed with silver embossing powder for a slightly elegant look.
Below are some resources for working with Ranger Distress inks:
Tim Holtz the Distress Ink Master
Shari Carroll has a great video here
Jennifer McGuire did a whole series of videos for Two Peas in a Bucket using Ranger products. The link to her video on Distress Ink Basics is here
 
Have you had any experiments turn out pretty good in crafting?  Let me know in the comments!
 
Thanks for coming by today!
 Stephanie
Ingredients:
Stamps: Serene Silhouettes (Stampin' Up!), Sentiment (Hero Arts Everyday Sayings)
Paper: Watercolor (yellow cover by Strathmore), Purple (color name unknown) Bazzill
Ink: Distress Ink by Ranger in Dusty Concord, Salty Ocean and Tumbled Glass, Archival Jet Black, Versamark
Misc: Salt, Sheer black ribbon (Celebrate It Basic Narrows/Michaels), Mr. Huey's Shine Color Mist spray (Studio Calico), Silver embossing powder (Martha Stewart), Dimensionals by Stampin' Up!