Today's post is a canvas panel I did for this week's Simon Says Stamp Monday Challenge: Inspired by a Song.
The challenge was a great jump start to my MIA mojo. I decided to mostly play, but have a deadline in order to actually stop thinking about the project and actually stick with the whole process.
My favorite song from Switchfoot called Dare You to Move is fitting because it is a reminder to keep going.
Every once in a while when I get a bit discouraged, I turn on this song and make myself sing screech it out loud. It instantly reminds me that I can make the choice to take a step forward and that there is always hope: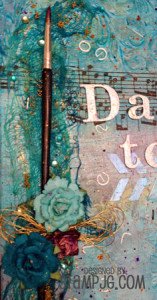 What if redemption has stories to tell? 
What if forgiveness is right where you fell?
Where can you run to escape from yourself?
Where are you gonna go? Where are you gonna go?
Salvation is here.
The panel is 8 x 10 and features Tim Holtz distress stains and paints over Melange tissue paper with a bit of stenciling and found objects. Stamps include the circle/oval from Simon Says Stamp, alphabets from Lawn Fawn and Hero Arts. The die cut letters "Dare to" are from my Silhouette and the die cut word "you" is from Simon Says Stamp.
Official Switchfoot DYTM Video @ YouTube
Thanks for stopping by!
Stephanie